These bible verse cards are perfect for St. Patrick's Day!
Children will be able to read the verse from Matthew 6:20,  and learn that God wants us to store up our treasures in heaven!
Additionally, if you have the means, you can attach a chocolate gold coin to the card for children to have a special holiday treat!
These would be great to tuck in children's cubbies or pass out to them on their way home!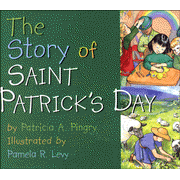 Here is a nice little board book for children to hear about the story behind St. Patrick's Day!
Posted In: bible crafts
Tagged: bible crafts, Printables, shamrocks, st. patrick's day, trinity